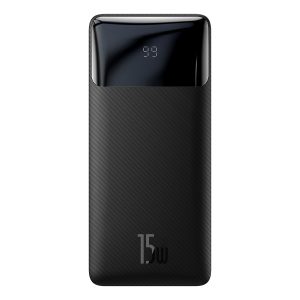 BASEUS Bipow Series Digital Display Power Bank 10000mAh 15W
R449.00
Key Features
Has a charging capacity of 10000mAh 15W.
Adapts to voltage currents according to the device connected.
Wear-resistant materials improve the longevity of the structure.
It has built-in device-protecting features.
Baseus Bipow Series Digital Display Power Bank 10000mAh 15W
15W Power Output | 2x USB and 1x Type C Port | LED Display | Multiple Protection Protocols Built In
The power bank features a charging capacity of 10000mAh. It supports fast charging delivering 15W of power across a wide range of devices.
Equipped with 3 output ports which include: 2 USB-A and 1 USB-C port.
The intelligent chip adapts charging performance according to the connected device. The power bank's charge level is conveniently indicated by the LED display. Its intelligent control system adjusts voltage to match the specific device.
Crafted from durable and wear-resistant materials, the power bank's housing exhibits remarkable durability. Built-in protective features allow it to withstand electronic damage. Compact and lightweight, it ensures storage and portability are exceptionally convenient.
Specifications:
– Material: ABS and PVC
– Battery: Lithium Polymer
– Battery Capacity: 10000mAh / 3.7V 74Wh
– Energy Conversion rate: 75%
– Micro: 5V/2A
– Type-C: 5V/3A
– USB1/USB2: 5V/3A
| | |
| --- | --- |
| Brand | Baseus |
| Colour | Black |
| Condition | New |
| Warranty | 12-Months |