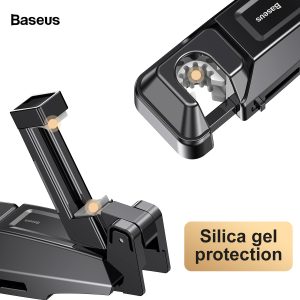 BASEUS Back Seat Headrest Phone Holder with Hook
R249.00
Key Features
2-in-1 design: Use it as a smartphone holder to watch movies in the backseat as well as a hook to hold up items.
Concealable: We have designed this mount holder to be able to be concealable when not in use, simply turn it and place it between the two alloy bars that hold up the front seat headrests.
Heavy loads: The mount holder is designed to hold up to 25kg in weight.
Silicone clamp: Ensures that the car mount does not damage the car's alloy headrest and surrounding region when attached.
Silicone pad protection: The clip arm of the car mount is also protected with silicone to ensure that smartphones do not get damaged and to further prevent the device from falling out of the mount.
Durable materials: We have combined a durable ABS material and high-grade silicone to guarantee a strong and robust product that is elegant and durable.
Clamp width: 64-90mm – Suitable for Mobile phones between 4.0 – 6.0 inches
BASEUS Back Seat Headrest Phone Holder with Hook
Headrest phone mount & hanger, watch videos & hang items up to 25kg, safe & concealable, silicone/ABS build
At Baseus, our products are based on our users. Quality, attention to detail and intuitive designs are all aspects which we pride ourselves with.
Main features:
2-in-1 design: Use it as a smartphone holder to watch movies in the backseat as well as a hook to hold up items.
Concealable: We have designed this mount holder to be able to be concealable when not in use, simply turn it and place it between the two alloy bars that hold up the front seat headrests.
Heavy loads: The mount holder is designed to hold up to 25kg in weight.
Silicone clamp: Ensures that the car mount does not damage the car's alloy headrest and surrounding region when attached.
Silicone pad protection: The clip arm of the car mount is also protected with silicone to ensure that smartphones do not get damaged and to further prevent the device from falling out of the mount.
Durable materials: We have combined a durable ABS material and high-grade silicone to guarantee a strong and robust product that is elegant and durable.
Specifications:
Material: ABS + Silicone
Colour: Black
Clamp width: 64-90mm
Suitable for: Mobile phones between 4.0 – 6.0 inches
Fixed position: Car headrest
Weight: 68g
Please note:
 Please always ensure backseat passengers are wearing seatbelts.
All of our products have gone through rigorous quality control processes designed to make sure that our customers receive a product which can be relied on.
This product packaging has been placed in a sealed plastic bag ensuring that our customers receive a clean and dust-free un-boxing experience.
Baseus and its distributor are not liable for the misuse of Baseus products.
| | |
| --- | --- |
| Brand | Baseus |
| Colour | Black |
| Condition | New |
| Warranty | 12-Months |