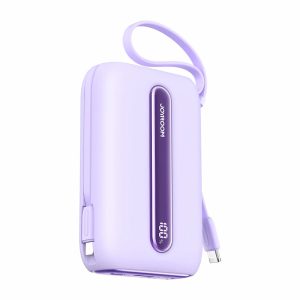 JOYROOM 22.5W Colorful Series 10 000mAh Power Bank (With Dual Cables)
R449.00
Key Features
It will charge your devices in much less time. Super-fast charging delivers up to 22.5W of power
It can charge three devices simultaneously. It has three outputs: Lightning and 2 x USB C
Extremely useful gadget on the go. It has two built-in cables (USB C and Lightning), it is small and light
It has enough capacity for everyday use. 10000 mAh allows e.g. to charge the phone twice
It's easy to hang on your bag or backpack. Built-in cables also function as a pendant
You can forget about the sudden shutdown of the power bank. The LED display shows how much power is left in the power bank
It controls the temperature generated during charging. So it does not damage the battery in the device being charged
JOYROOM 22.5W Colorful Series 10 000mAh Power Bank
Travel suitcase packed? Don't forget the Joyroom Colorful Series JR-L012 10000mAh power bank! It's the perfect gadget, ready for any trip. It means that you don't have to worry about the energy to charge your phone or the charger cables. This power bank has a 10000 mAh capacity, a USB C port and two built-in cables: USB C and Lightning.
It allows you to recharge up to three devices at a convenient time, and the power of up to 22.5 W ensures a much faster power supply. The body of the Joyroom JR-L012 power bank has a built-in display that shows how much power is left in the power bank. It is light, thin and has a compact design.
Compatibility? You don't have to worry about her either. You can power it on your phone, smartwatch, headphones or smartband – regardless of which system it works on.
It will charge your devices in much less time . Super-fast charging delivers up to 22.5W of power
It can charge three devices simultaneously. It has three outputs: Lightning and 2 x USB C
Extremely useful gadget on the go . It has two built-in cables (USB C and Lightning), it is small and light
It has enough capacity for everyday use . 10000 mAh allows e.g. to charge the phone twice
It's easy to hang on your bag or backpack . Built-in cables also function as a pendant
You can forget about the sudden shutdown of the power bank . The LED display shows how much power is left in the power bank
It controls the temperature generated during charging . So it does not damage the battery in the device being charged
Specification:
Manufacturer: Joyroom
Model: JR-L012
Capacity: 10000mAh (37Wh)
Input current:

USB-C: 5V/2A, 9V/2A, 12V/1.5A

Output current:

USB-C: 5V/2.4A, 9V/2.22A, 12V/1.67A
USB-C cable: 4.5V/5A, 5V/4.5A, 5V/3A, 9V/2A, 12V/1.5A
Lightning cable : 5V / 2.4A, 9V / 2.22A

Material: ABS, fireproof PC
Dimensions: 98 x 54.5 x 29mm
Weight: 193g
| | |
| --- | --- |
| Brand | Joyroom |
| Colour | Black, White, Pink, Purple |
| Condition | New |
| Warranty | 12-Months |